During the Federal period in America, the increased focus on the home as a place for entertaining and leisure activities occasioned a demand for comfortable and attractive seating furniture. The low back upholstered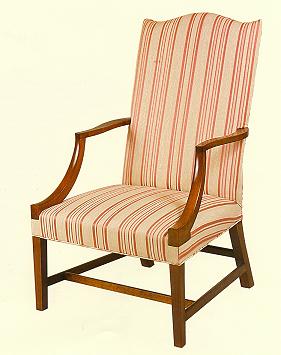 open arm chair of the earlier Chippendale style was replaced by the high back Federal "lolling" chair which, as its name suggests, was used in parlors, libraries and other rooms in Federal American homes where relaxed, comfortable seating was needed.
Our American Federal ClassicsTM replica New England lolling chair is made of native figured cherry, with a graceful high back and a serpentine crest. The shaped arms are supported by sloping arm supports which continue into square tapering front legs with an "H" stretcher base connecting the raked square back legs. The chair is remarkably simple in design yet sophisticated and successful in its scale and proportion. This handsome chair is easily used either in the home or in a commercial environment where high back seating is desired.