During the Federal period in America, the increased focus on the home as a place for entertaining and leisure activities occasioned a demand for comfortable and attractive seating furniture. The low back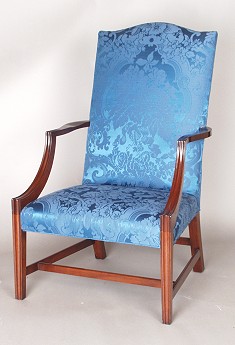 upholstered open arm chair of the earlier Chippendale style was replaced by the high back Federal "lolling" chair which, as its name suggests, was used in parlors, libraries and other rooms in Federal American homes where relaxed, comfortable seating was needed.
Our Massachusetts Hepplewhite lolling chair is very shapely and both sophisticated and successful in its scale and proportion. The richly grained mahogany is shaped and molded on the arm supports and tapering front legs, exactly like the original. This handsome chair is easily used either in the home or in a commercial environment where high back seating is desired.