A rare easy chair which originated in New England during the Federal period was the hollow back lolling chair, with a concave keystone shaped back, wider at the top than at the b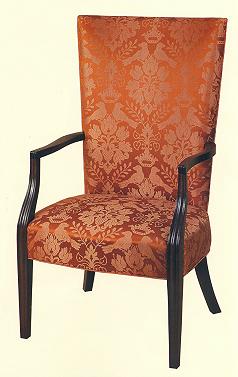 ottom. The few known examples trace their origins to the Boston area. Based on a labeled example in the collection of Winterthur Museum, most are attributed to Lemuel Churchill, a Boston cabinetmaker active from 1800 to 1828. An example is also in the collection of the Metropolitan Museum of Art.

The symmetry of this beautiful chair is achieved through the successful relationship of the back to the shaped arms and moulded curving arm supports which continue directly into the moulded square tapering front legs. The back legs rake out at a satisfying angle to the frame, completing the delicate but sturdy overall feeling of this rare form.

Our American Federal ClassicsTM replica of this unique Federal easy chair is crafted of richly grained South American mahogany, beautifully hand finished to highlight the natural tones of the wood. The construction of the chair, including the use of maple and pine secondary woods, is exactly like the original example.