The American eagle was the most important symbol used in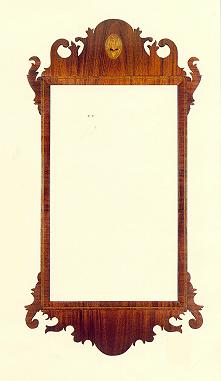 Federal America. It symbolized the strength and integrity associated with the "New Republic" which began with the adoption of the United States Constitution. Eagle decorated furniture of the Federal period is rare, and highly prized because of its significance during this unique time in American history.

Our American Federal ClassicsTM replica eagle inlaid mirror is made of select Honduras mahogany veneer on pine, with individually cut and assembled ears and scrollboards, exactly like the original of this rare mirror. The oval inlay is made to the exact specifications of the original, with each inlaid segment made of exotic colored wood to depict the precise detail of the original eagle inlay.