Our replica Congress Hall chair is made of select Honduras mah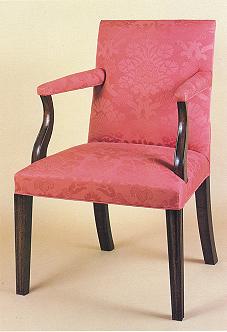 ogany, with secondary woods of maple and oak, and features mortise and tenon construction throughout. It has a square upholstered back, with upholstered arms above moulded serpentine arm supports, and an upholstered seat with moulded, square tapering front legs and raked back legs.
This exceptionally comfortable easy chair is ideally suited for either residential or contract use, and is available in muslin or finished in customer's own material. Brass studs in the manner of the original are an available option.
An armless "stool back" chair is also available as an adaptation of the original arm chair.